Despite their fierce and daunting nature, storms tend to be forgotten as morning breaks. The dawn of a new day brings with it new beginnings, hope, and relief from the worries that consumed us the night before. Nature's simple act of transitioning from a cold, dark night to a warm, sunny day can bri[...]
Add To Cart
Add 8 Balloons for $42.95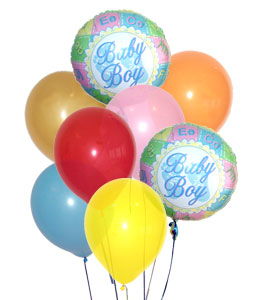 Despite their fierce and daunting nature, storms tend to be forgotten as morning breaks. The dawn of a new day brings with it new beginnings, hope, and relief from the worries that consumed us the night before. Nature's simple act of transitioning from a cold, dark night to a warm, sunny day can bri[...]
Despite their fierce and daunting nature, storms tend to be forgotten as morning breaks. The dawn of a new day brings with it new beginnings, hope, and relief from the worries that consumed us the night before. Nature's simple act of transitioning from a cold, dark night to a warm, sunny day can bri[...]
Despite their fierce and daunting nature, storms tend to be forgotten as morning breaks. The dawn of a new day brings with it new beginnings, hope, and relief from the worries that consumed us the night before. Nature's simple act of transitioning from a cold, dark night to a warm, sunny day can bring positivity and hope to many, with the sky brightening, flowers blooming, and birds singing.

Celebrate the start of a new day with the Sunny Sentiments Bouquet, composed of the most stunning summertime flowers. It radiates the warmth and beauty of a sunny day and is the perfect gift to bring joy to someone's heart. Whether you want to cheer up a saddened heart or fill someone's dreams with hope, the Sunny Sentiments Bouquet is the perfect choice, featuring a wide array of the season's best blooms, including bright yellow Peruvian lilies and dazzling yellow roses.

Adorned with beautiful white daisies that give it a fresh-morning feel, and green button poms and lush greens that add to its sunny appeal, this versatile bouquet makes a great thank-you or get-well gift. You won't find the same natural beauty and warmth in any other bouquet. Spread positivity and hope to your loved ones with the Sunny Sentiments Bouquet, available at all our local florist stores nationwide, with same-day delivery upon request.
Item No. C3-4793
Price: $74.95